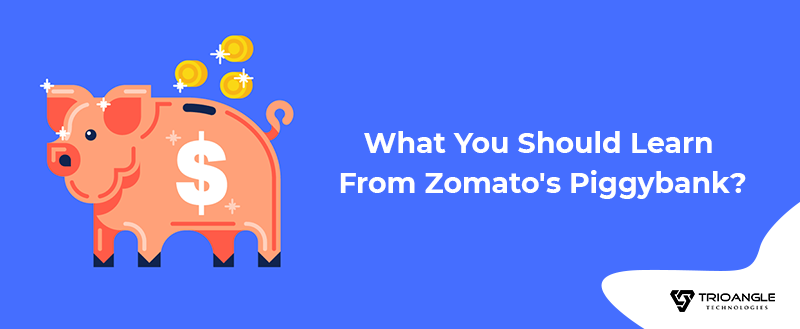 Everyone is aware of food delivery and many people are regularly using it. Even though food delivery apps are not widely spread, its popularity and reach are very high. The food industry is one where many startups and entrepreneurs are looking for a way to succeed. If you are one of them, then this blog will help you to know more about Zomato Piggybank as well as its strategy.
Zomato is one of the food delivery giants and they process more than 3 million orders a month. Here are some factors you should know about Zomato's Piggybank.
What is Zomato's Piggybank?
The piggybank is nothing but a reward point program to its loyal customers. It also has the option to invite your friends and form a community within the app.
How Does Zomato's Piggybank Works?
It saves 10% of order amount every time you order and collects it as Z coins which you can use to discount your future order up to 10% of order value. There is no restraint in Zomato's Piggybank as you can use it with any offers or in any food order.
Pros of Zomato's Piggybank:
You save 10% of your order value and you can use it for future discounts in your order.

By sharing your referral code, You can get 200 z coins and your friends who use your referral code also gets 200 z coin.

Zomato donates Re.1 for every time you order using Piggybank. The average amount donated using Piggybank is 1.25 crore (approx) a month.

Zomato's donates this amount to Akshaya Patra a foundation for a mid-day meal for children.
Cons of Zomato's Piggybank:
Zomato charging Rs 299 as a joining fee, if you don't have an invitation to join the program. But there are lots of invitation and referral codes are available on the web.

The Piggybank will auto-renew if you completed 5 orders a month. If you don't complete 5 orders then, you are automatically unsubscribed from the plan.

Zomato's Piggybank is available only on mobile apps and not on the website.
What Zomato Gets Back?
Using Piggybank subscription, Zomato gets lots of new customers and it encourages its customers to order more. Thus it results in an increase in the customer base as well as an increase in sales. They also retain their loyal customers and engagement of the app.

Many customers sharing their referral codes in social media and on other websites to earn z coins. Zomato also gets good promotion as well as reach using Piggybank.

Zomato builds its good name as well as increased their brand awareness by donating to Akshaya Patra.
If you are an entrepreneur or a startup or a business person then, I guess you have learned something new from Zomato's Piggybank.
The food delivery is glowing at its full potential and its right time for any business person to jump into the industry.
You can start food delivery business with clone scripts like Zomato Clone Script, UberEats Clone & Swiggy Clone App.
Many companies also provide customized app development service which you use for your business.
Thanks.
Have a great day.