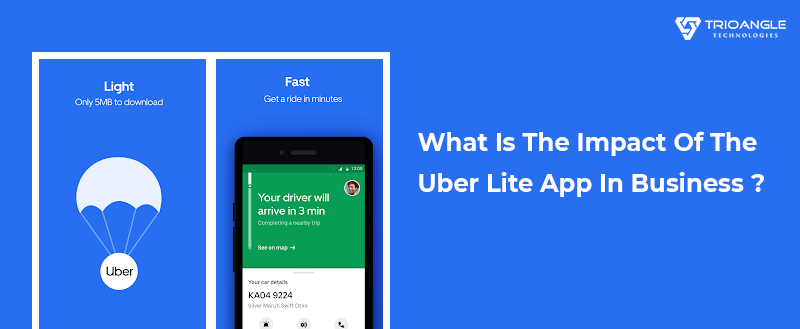 Once after becoming the renowned brand, you have to extend your features and functionalities of your business. So that you can grab wide audience, like connecting emergency call num, SOS alert, and others. That's why the size of the actual Uber app is around 50 plus MB.
If you need to provide high end service and when you can not compromise in that, it ends up with larger size of the app. But on one side it will be highly beneficiary, because from your side you can meet the requirements of the people who are expecting.

At the same time, Some people may think the space it observed is large in number, or the app is not working with the less network availability and other list of problems.
As a business person, you are in the point to serve those  people with better convenience and that why the concept called the "Lite" option arises.
What Is The Impact Of The Uber Lite App In Business ?
Uber has both the app, the original Uber app and a Lite app, so it can grab all kind of audience, and would not give an opportunity to lose a valuable customer.
Okay let's talk from the business perception. You also sail exactly in the same boat.  So for your business with the help of the on demand taxi booking script you will owe a web app as well as mobile apps.
For other purpose at less cost one can also influence the lite app. The lite app comes only with the basic features to book the ride.
You are providing options from your side to the people to enjoy with the lite app with very few basic features, or else go opt for the original app for your service.
In other cases, if you are eternally new to this taxi dispatch field, instead of investing large dollars for the app, you can try out this lite version and then expand to the multi featured app.

Yes, This is all about the business, it works similarly for the taxi booking  solution as well. In this competitive field every single customer is the trump card to extend your business. So on your regular way if there is any problem for some category of people, then fine solution is to be incorporated by introducing app like Lite versions.

The lite version of the online taxi booking software can be collected from the vendors who is providing Uber clone script or from the vendor whom you drafted your main app.

If you need lite app for your business feel free to contact [email protected]. Our team will explain the detailed requirements of your business.