Everyone talks about digital evolution because they believe that their business would get success in the online streams and ponder's to find their way towards web developers to have a website for their business.
But do you believe only having a website results in good leads for your business. Absolutely No  A newborn baby need's promotion to germinate hefty results. So what's called Promotion here how it can be done ? This blog will give you result regarding that.
Let me be brief. You can promote your business in four ways that is through
SEO –

S

earch

E

ngine

O

ptimization

SEM –

S

earch

E

ngine

M

arketing

SMM –

S

ocial

M

edia

M

arketing

SMO –

S

ocial

M

edia

O

ptimization
All these comes under the Umbrella of Digital Marketing(DM). Yes here comes the season where DM have become the must required one to uplift the business.
Search Engine Optimization – The process of maximizing the number of visitors to a particular website by ensuring that the site appears high on the list of results returned by a search engine (Google Defines It)

To list in the Top SERP results you have to concentrate on the onpage and offpage strategies and it is absolutely free to do. The time it takes to result will be around 3 to 4 months, but remains as a long term outcome,
Search Engine Marketing
It is also an internet marketing that involves the promotion of the website. But this is possible only by the investment. In a night you can list in the lop SERP but for every click you have to pay. This is not only for SERP, But can also promote in other websites. Do you remember ad's in the blogging or other site on your surfing. If yes then all that comes under this SEM.
Here absolutely convenience in your hand, If you need to stop then you can go ahead and just pause your ads. This paid ads can be done in Adwords, Bing Ads, Yahoo Ads and other methods of online advertising.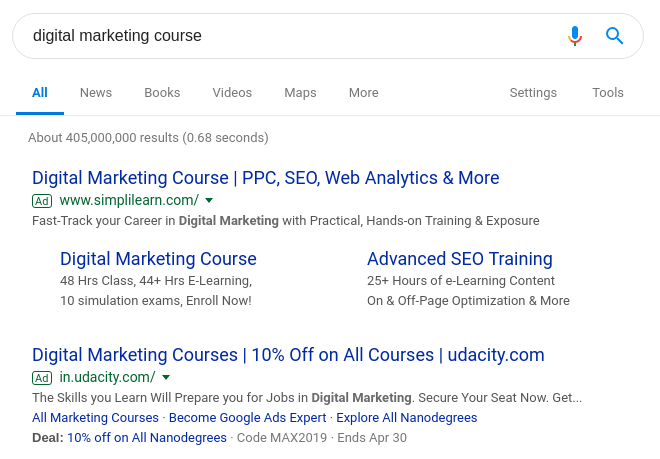 Many expert says that you will have twice the ROI in SEM and of course it is an undeniable  fact.
Social Media Marketing
This is also comes under paid segment but not in search engines but in the social media like Facebook, Linkedin and others. Most importantly eCommerce field will try to make use of this field and people who prefers to create brand will chose this.
Both SEM and SMM will be targeted to the maximum to the right audience if it is optimised and assigned perfectly.
Social Media Optimization
This is nothing big, by having an account in all the social media platforms by creating a profile and sharing the details regarding what you are upto and  Social media optimization helps drive traffic to your website or blog, makes it easier for others to share with their circle of influence, builds community around your brand and helps search engines index your social media profiles, social activity and blog posts more easily.
If you are looking for the better Digital Marketing Agency ping us, we will help you out.
Contact : [email protected]