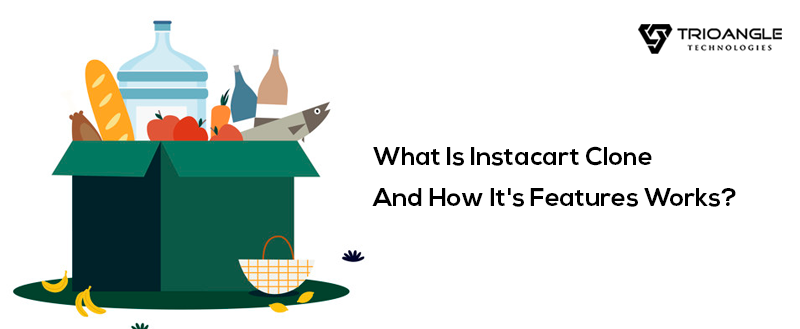 Nigh every people vigorously moving towards the corporate industry to earn and wanted to get settled in their life. It's almost a hectic lifestyle for them to survey on this world. On this working lifestyle, how the folks can able to satisfy all their needs such as cooking food, buying groceries, and so forth?
"The biggest problem in the world could have been solved when it was small."
Every problem has a smart solution. 
To content the people, technologies are opening their wings to help all kinds of people. You may think that how it's can it be possible?
Great! peoples highly demanded the food, grocery, pharmacy, and so on. To have the food they to need move restaurants, for groceries they tend to move the departmental store and to get a tablet they need to go pharmacy shop. 
To overcomes all the hassles, Trioangle Technologies had considered this concept on the mind and had built a stellar online grocery delivery script with revamping of Instacart. 
What Is GoferGrocery – Instacart Clone?
Time to have a quick conversation about GoferGrocery! 
GoferGrocery is the best grocery script, which fully integrated with an on-demand grocery ordering & delivery script for the many entrepreneurs to kick start their business. 
 Our GoferGrocery is underneath with uber for grocery script and revamp the breath of Instacart clone. It has highly embedded with the advance and latest technologies for the entrepreneurs to have a great sale. And also available with branded mobile applications such as Android and iOS platforms. 
How GoferGrocery – Features Works?
GoferGrocery- on-demand grocery delivery app has a fired-up feature and flawless work process for the users, store partners, and drivers partners.
Wonderful and exciting offers
The store partners can increase their sales by using these options to sell their products at low prices with exciting offers including discounts, offerings, promotions.
Comfortable advanced search 
The users can have a merely and comfortable purchase of the grocery by using the easy filter options from integrated categories of the products. 
Pop-Up notifications
The customers can place their grocery orders instantly to the store by using this option. 
Groceries at the doorstep 
The users can get their ordered groceries to they are specified address with the help of a GPS tracking system at the doorstep.
Fast and Secure Checkout
GoferGrocery- Grocery Delivery App has a secure payout option such as credit and debit cards, cash on delivery, net banking options and e-wallets.
Start the business voyage with our GoferGorcery!
To know details about GoferGrocery – Instacart clone, now contact 6379630152 or ping on [email protected] or Skype to Trioangle.