"Content Is King", This statement is true to the business in this digital platform. Content marketing is a strategic marketing approach that is focused on creating and sharing valuable and relevant content to attract users and retain them. Many successful firms like Microsoft, Cisco uses content marketing to reach their customers.
If a business uses content marketing as a marketing tool, you can easily grab customer attention, increase sales, save money and retain the customers.
Before moving into content marketing strategy and its role in the business, we should know about the buying cycle of consumers.
Awareness.

Prior to awareness, a customer may have a need, but they are not aware there is a solution.

Research.

Once a customer is aware there is a solution, they will perform research to educate themselves.

Consideration.

At this point, the customer starts comparing different products from different vendors to make sure they're getting a high-quality product at a fair price.

Buy.

Finally, the customer makes their decision and moves forward with the transaction.
In traditional marketing and advertisements, passing through all four stages is difficult, other than its greatness. In content marketing, you can reach an audience through two steps.
Content Marketing In Business:
Today's business market their product digitally. Content marketing is any useful and relevant content online that grabs the right audience attention that helps for business growth. Let me describe how important content marketing in business.
Content marketing increases brand reputation.

It built trust to your audience.

Improves the rate of conversions.

Well-optimized content improves and enhances our SEO efforts.

Great content converts visitors to leads, which is very important for small businesses.

An exclusive way to build a relationship with customers.

Increase visitor traffic.

Be ahead from your competitor with great content.

Every useful information is content. Small business prefers another form of marketing like email marketing, PPC etc, even to them content supports and withstand them in the digital platform.

From visitors to customers, every stage in the sales funnels content marketing plays a lead role.

It builds backlinks.
But how to bring traffic through the website and convert them to customers through content is just
Find the problem of the viewers.

Agitate that pain.

Provide a solution to that product
CONTENT MARKETING SALES FUNNEL: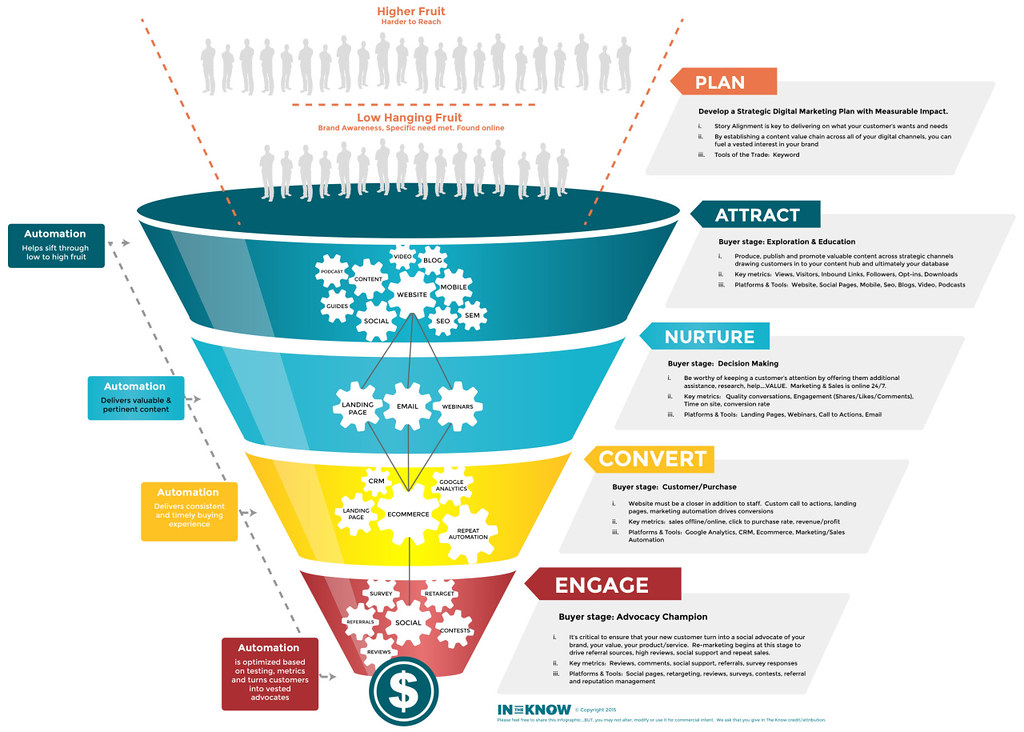 Forms Of Content Marketing :
Here are some of the forms of content marketing and a famous statement given by predominant firms and magazines.
Blogging: 82% of marketers who blog get positive ROI from their inbound marketing activities. (Hubspot).
Social Media: Reps using social media as part of their sales techniques outsell 78% of their peers.  (Forbes).
Video: Mobile video consumption grows by 100% every year.  (YouTube)
Infographics: An infographic is 30 times more likely to be read than a purely textual article. (Search Engine Journal).
Webinars: Over 60% of marketers are using webinars as part of their content marketing programs.  (Content Marketing Institute).
Interactive Content: Interactive content, such as apps, assessments, calculators, configurations, and quizzes, generate conversions moderately or very well 70% of the time, compared to just 36% for passive content.  (Ion Interactive).
Podcasting: 88% of podcast listeners that subscribe to your podcast will listen to every episode. (WhyPodcasts).