If you are an entrepreneur, your responsibility to audit the performance of your company development and lucrative. To scrutinize your business development, how can you able to measure, analyze, and generate leads without any source?
But in the offline medium is you're just going to wrap your head around something(complicated).
"If you can't measure it then how can you going to improve it."
Without collecting business data, it is impossible to show what affect your SEO strategies are having.
Tracking performance and progress makes analytics invaluable to marketers.
Every business visioners goal is to provide benchmarks and insights to help businesses everywhere grow better.
The survey of HubSpot report was 61 percent of mix business company sizes, and levels of seniority respondents say generating traffic and leads is their most significant marketing challenge.
If the C-suite persons aren't getting the leads they expect, they start questioning if your work is valuable. That is where data becomes crucial to digital marketers.
In this blog, the overview of Google Analytics, the most robust free analytics platform available, and how SEO pros and marketers can use it to their advantage. Let's jump into the best guide of Google analytics, to escalate up our awareness
What is google analytics?
Google Analytics is a free Web analytics service that provides statistics and basic analytical tools for search engine optimization (SEO) and marketing purposes. The service is available to anyone with a Google account. Google bought Urchin Software Corporation in April 2005 and used that company's Urchin on Demand product as the basis for its current service.
It dispenses entrance for the SEO analyzer to get a massive amount of data related to how users find and interact with your site.
In this tool, you can able to check out how many peoples had visited a specific page, how long they remained there, where your users live, how certain keywords perform, and so forth.
This information is vital in determining how effective your awesome SEO strategies are and to uncover areas you can make improvements.
Basics understanding of Google analytics, from that you are going to know how to create, implement the account, set up views, and filter, read basic of the report, set up dashboards, performs the basics of analytics and set up goals and basic campaign tracking.
The main and core concept, you should know in Google Analytics is essential to SEO, let's talk about what you will learn in this guide. In marketing, we have some concept of the purchase funnel. There are different types of the stage which describe the customer's interaction.
This blog going to explicitly you about the major topics that are broken up into 5 aspects, that are plated below,  
Real-Time:- The users current present is on your site and what they are doing.

Audience:- To generate the reports of the group users together based on set parameters.

Acquisition:- building awareness, acquiring the user's interest

Behavior:- when users are engaging your business

Conversion:- When users become a customer and transact with your business.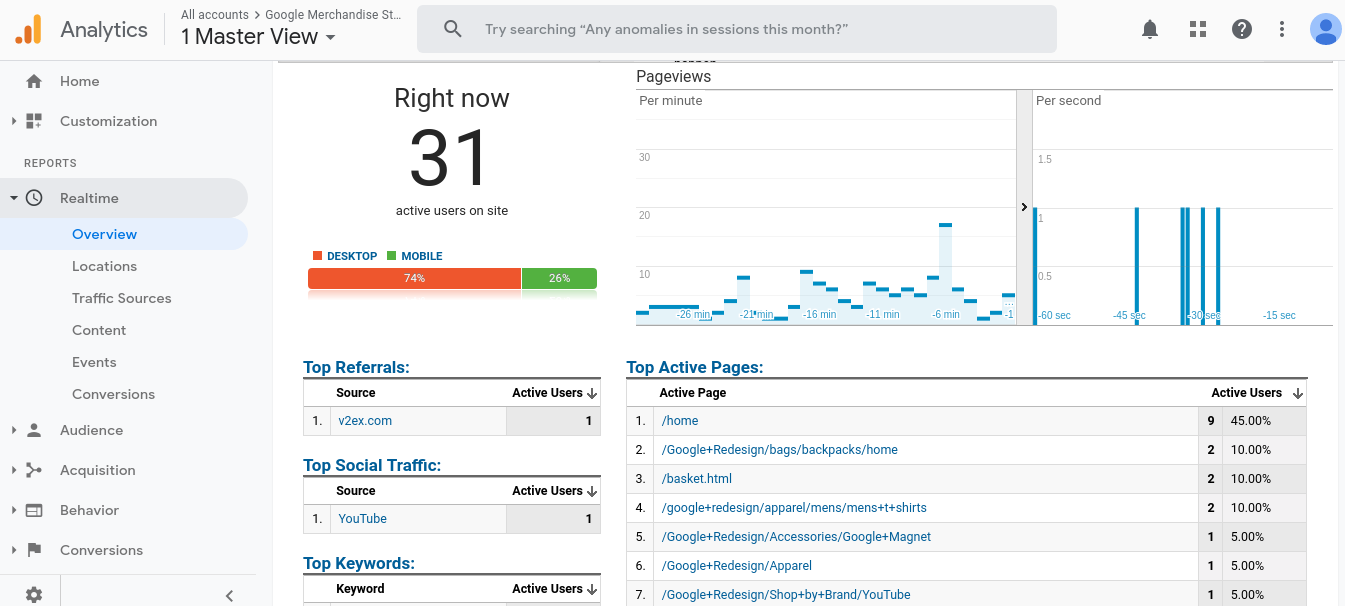 Real Time:- This report will give you data about the users who are on your site and what they are doing.
Let have an example, if you have posted a blog in a medium, your role is to check the users who Real Time:-Real Time:-are visiting your blog and what reaction they are provided on your blog.
Likewise, you will audit them on your site. With real-time, you can.
To access data as it happens, click "Real-Time" in the left sidebar of your Google Analytics dashboard.
Let's look at the different real-time reports.
Locations:- You can able to predicated the users time zone, country, and how many users right now.
The number of people on your site right now, their geographic locations, the keywords, and sites that referred them, which pages they're viewing, conversions as they happen.
Traffic source:- It says to you how users found your site. either in google, facebook, or any referral medium.
Content:- Insight into where users are landing on your site and how long they are staying there. You can see the page title, URL, and the percent of active users on a specific page.
Events:- If the users enter into your landing page, from that analytics, allow you to track customizable interactions of the users.
It might include ad clicks, white paper downloads, or video views, podcast(audio), etc..
Conversions:- To up to par your customizable goal. It might be the users enter the landing page, landing page to video, etc, that is your own setup the goals.
Now the massive collection of data tracked by the audience aspect let's kick off to know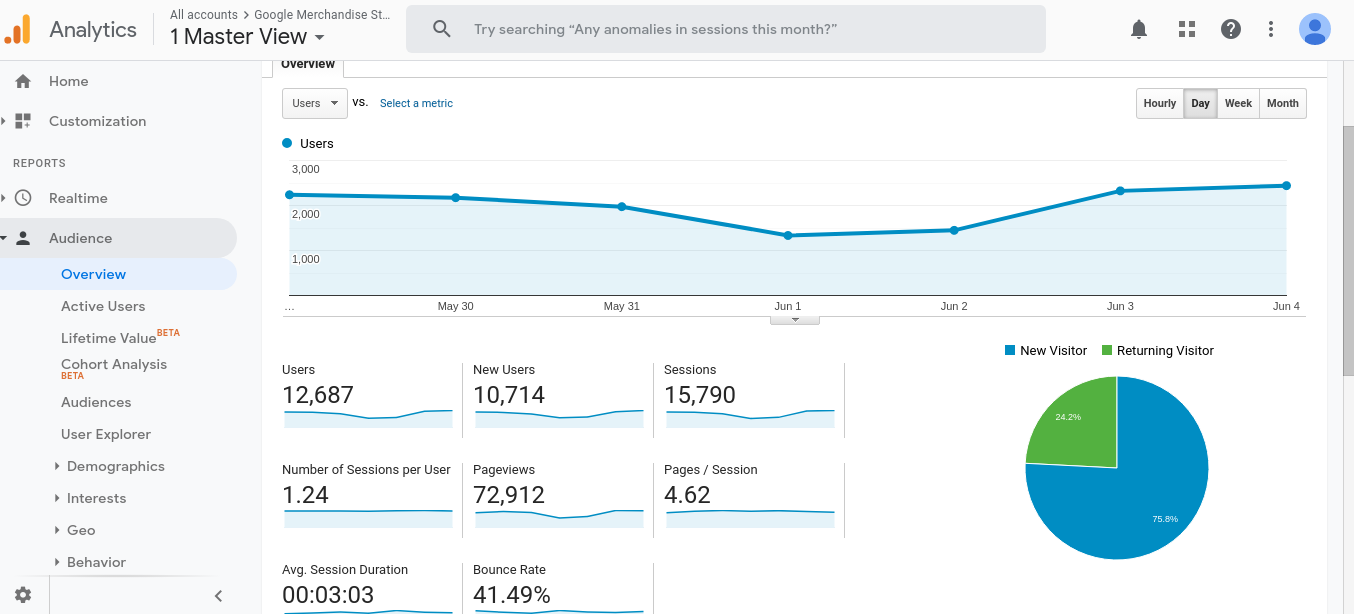 Audience:- This aspect gives you the complete parameters of reports of the users' group together based on set parameters.
All this information can be yours.
You can use this info to better target specific sections of your audience.
In the audience aspects, there are many sub aspects are Active Users, Lifetime Value, Cohort Analysis, Audiences, User Explorer, Demographics, Interests, Geo, Behavior, Technology, Mobile, Custom, Benchmarking, Users Flow. These are the above aspects will say you about your audience performance on your site.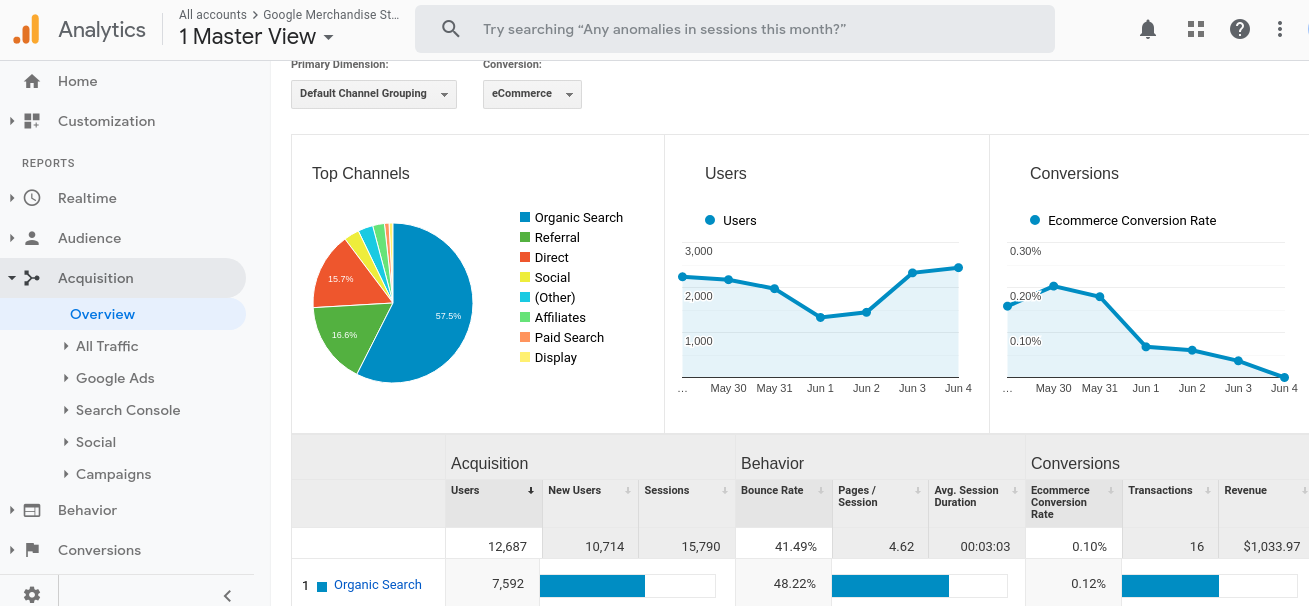 Acquisition:- The Acquisition Report provides detailed data on how your audience finds your site, what they do once they get there, and if they completed specific actions, such as filling out a form.
Spoiler alert: Google announced that Image Search reports will soon be added to the acquisition reports in Google Analytics.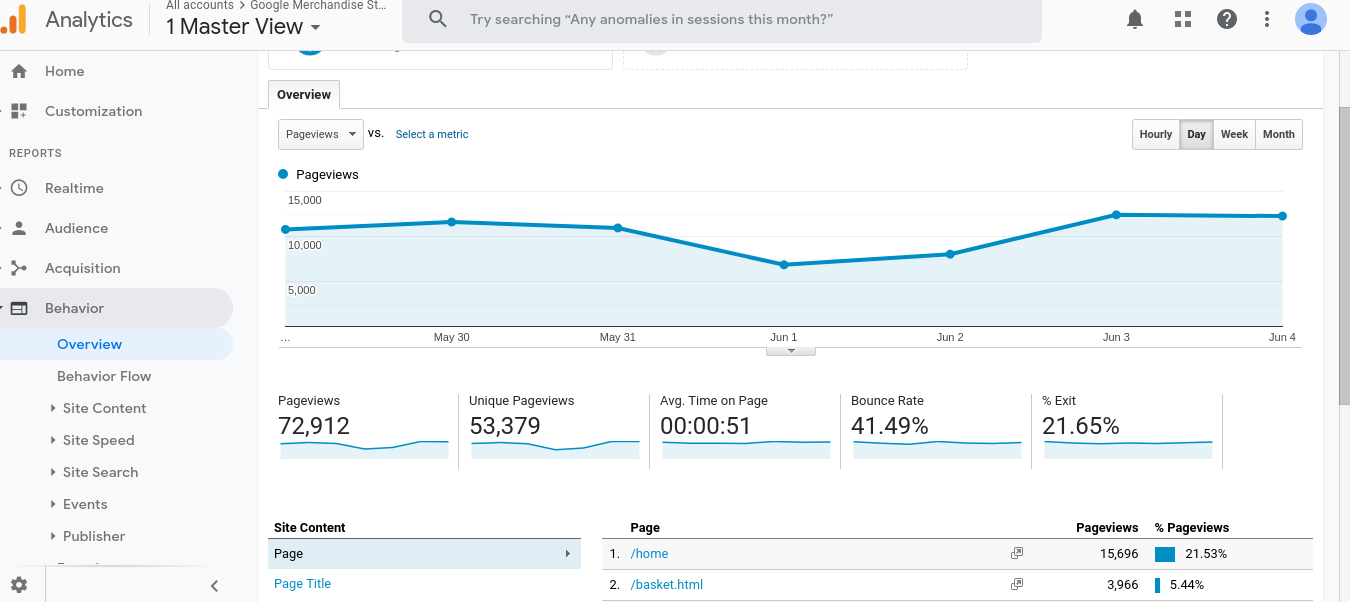 Behavior:- The Behavior Reports provides data about the actions users take on your site, including using site search, the content they view, how fast pages to load, and so forth.
This information can help uncover areas where your site is not performing as intended.
Conversion:- This section of Google Analytics is all about completed actions.
How many people registered for your email list? How many users made a purchase?
The answers to these questions provide tons of information about the health of your business and the success of your SEO efforts.
How Does Google Analytics Works?
Oh! Even you don't work with analytics then how does it work exactly? Google Analytics is the best platform, from that, we can collect data and compiles into useful reports.
In analytics, to track the website, you first need to set up Google Analytics accounts. Then a small piece of Javascript tracking code should add on your each website pages. Whenever or every time the users enter into your business websites page, this tracking code will collect the anonymous information about the page, how those users interacted with those pages. For example, In Trioangle page, the tracking code could show us the visitor visited the page and spends the times. And then it was converted into leads.
The tracking code will collect all the information about the browsers such as languages, types of browsers(chromes or safari), devices and the operating system (mobile or desktops) which use to collects from Trioangle page. Even it will collect traffic sources of the web page which might be bought the users to site a page first place. This might be searching on the search engine by the clicking on ads or email marketing campaign.
Keep in mind, when the page loads the tracking codes will collect and sends the updates of the user's activities information are grouped into periods that was named as the session. We already know that the page contains a tracking code. if the session completed after 30 minutes then again the session starts.
How Google Analytics Accounts Manages?
Generally, all your google analytics accounts get into aggregate in an organization which optional. This allows you to manage multiple Google analytics accounts under one grouping. Large organization or agencies could have multiple accounts. While medium or small size business has at least one account generally to manage. While creating an account, it will automatically generate a property, each property has a view.
With the account, you can able to create multiple properties, views for the account. Lets organizations ways of your analytics collect the data, that will be the best to reflect on your business.
The google analytics account determines how the data collected on your websites and manages how to access that data. Typically, you would create a separate account to distinct for business or business units.
Each Google Analytics account has at least one property. Each property can collect data independently of each other using a unique tracking ID that appears in your tracking code.
You may assign multiple properties to each account, so you can collect data from different websites, mobile applications, or other digital assets associated with your business. For example, you may want to have separate properties for different sales regions or different brands. This allows you to easily view the data for an individual part of your business, but keep in mind this won't allow you to see data from separate properties in aggregate.
View Settings
Just as each account can have multiple properties, each property can have multiple views. You can use a feature called Filters in your configuration settings to determine what data you want to include in the reports for each view.
For example, The Google Store sells merchandise from their website across different geographical regions. They could create one view that includes all of their global website data. But if they wanted to see data for individual regions, they could create separate views for North America, Europe, and Asia. If the Google Store wanted to only see data for external traffic (that didn't include their own store employees), they could set up a view that filtered out internal traffic based on IP address.
The view level also lets you set Google Analytics Goals. Goals are a valuable way to track conversions, or business objectives, from your website. A goal could be how many users signed up for an email newsletter, or how many users purchased a product. We'll discuss Goals and Conversions in a later lesson. Be thoughtful when setting up your accounts, properties, and views, because you can't change data once it's been collected and processed. by Google Analytics.
Before we move on to user access permissions, there are a couple of important things to note about views:
New views only include data from the date the view was created and onwards. When you create a new view, it will not include past data.
If you delete a view, only administrators can recover that view within a limited amount of time. Otherwise, the view will be permanently deleted.
User Permissions
You can assign permissions to other users at the account, property, or view level. Each level inherits permissions from the level above it.
For example, if you have access to an account, then you have the same access permissions to the properties and views underneath that account. But if you only have access permissions for a view, then you won't have permission to modify the property or account associated with that view.
By clicking Admin, Google Analytics lets you set user permissions for managing users, edit, collaborate, or read and analyze.
Managing users lets users add or remove user access to the account, property, or view.
Edit lets users make changes to the configuration settings.
Collaborate allows users to share things like dashboards or certain measurement settings.
And finally, Read and Analyze lets users view data, analyze reports, and create dashboards, but restricts them from making changes to the settings or adding new users.
How you configure your organizations, accounts, properties, and views can affect how your data gets collected. Be thoughtful when setting up your Google Analytics implementation, and make sure you align your properties and views of the data you collect with your overall business structure.
I think this blog may help you to know about Google Analytics and it's working.
I catch you again with another informative blog. Thanks for spending your valuable time with us.