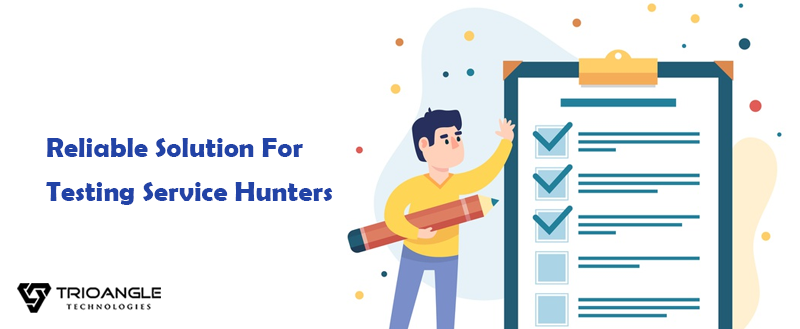 Trioangle Technology, one of the best web and mobile app development company extended its wings to the Testing service sectors.
Every researcher would accept the fact that testing engineers are equally important to the developers, because in this software trending world, many have influenced their business over the web or mobile apps. To successfully get into the market as a business person one need support of both developers and testers. 
Not to mention this app swanks about their quality of the business. So when the testing get fails then they get negative impression regarding the business. Do you know some important analytics ? More than 50 % of people uninstall or delete the app if they face a single bug while using. 
So it's significant for the business to have an unblemished QA testing service, We Trioangle with the team of experts will handle manual testing service in an impeccable way. 
The Testing Process That Works Better
Early Bug Detection
Through automation, in the early development stage one could figure out the bugs and take primitive options, this will be a safe play for developers as well. 
This is considered as the professional way for the testing. 
(There is no bylaw for the testing service to be done in this particular time, that is in the middle of the development process or at the initial stage, So no worries about the timing perceptions )
Look For Accurate Results
Everyone wants the result in one go, after getting launch if the web or mobile apps have any crash then it is breaking its positive reputations.
Then the company has to spend time and energy on both the software validation and to hold back their positive brand either through marketing or others. 
To save money, time and energy, qualified testing services should be done in more accurate way and reports has to be monitored with no terpor. 
Reusability
Many firms have a modest hesitation about why to invest in the automation tools when they can complete the work with the manual testing. Because as a startup the investment they make will be huge. 
But the important metrics to be considered they could reuse that automation tool for other similar projects. So move along with the technical updates through automation. 
Prioritize Customer Satisfaction
Every app that is launching in the stores has a goal to achieve a customer base, so research and work on the track to attain a better result. Before launching even spends hours and hours but once if you have chosen to close the project then there should be no more bugs or other crashes for usage. 
If you follow this for your website, then you can maximize your business profits. 
Trioangle offers the best independent software testing services at affordable price, if you are interested, our team would aid you in a better way. 
For more details please feel free to contact sales@trioangle.com