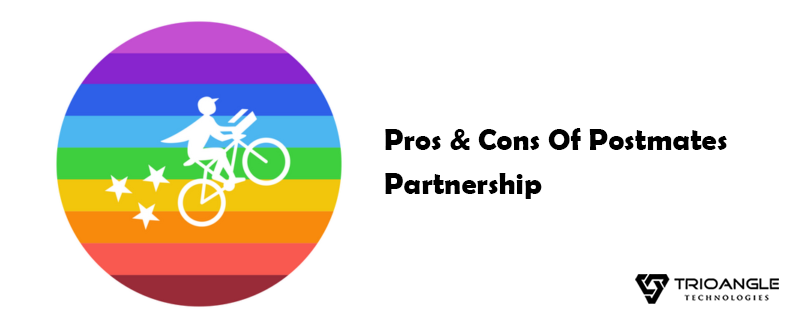 Everyone is aware of the food delivery business and people want everything in their hand without moving a step. Though it sounds harsh, it is a bare truth that we should accept happening in today's world. Most working class people are busy with their schedule and not into cooking.
It creates a vacuum in cooking and most of them are results in online food delivery sales. Many startups and entrepreneurs want to utilize this trend in food delivery. Postmates is one such app which delivers 24 hours a day to its customers.
Postmates is a San Francisco based delivery app which delivers food, medicine, clothes, groceries and so on. They don't want to resist themselves with food delivery and delivering whatever a customer needs.
It is important for one to know about the relationship with Postmates and its partners which will help them to understand the business model of Postmates. If you are up to start a delivery business or food delivery then, this helps you a lot.
What Is Postmates Partnership?
The Postmates partnership helps stores, restaurants and others to sell their products through Postmates by signing up with the platform. The partners have to sign up an agreement with Postmates to sell in the platform.
Pros Of Postmates Partnership:
Postmates offers lots of benefits to its partner and here are some key pros of Postmates partnership.

Increase in the visibility of your brand and can reach lots of user base in your neighborhood.

Know what your customer likes from your store with the valuable data provided by Postmates.

Postmates provides a 300% increase in online takeaway sales to its partners.

The partners can promote their brand by showing ads or by providing offers to their customers.
Cons Of Postmates Partnership:
Although there are lots of benefits in Postmates partnership, here are some cons you should know about.

Postmates will slice away from your hard earned money as a commission fee and other charges.

There are lots of concern in brand building and many have concerns about their brand identity.

Many partners are worried whether their products are delivered to their customers properly.
How Much Postmates Charge their Partners?
Commission Fee:
The Postmates charge a commission fee of 15-30% of the order amount to their partners for delivering and listing their products.
Sales Tax:
The sales tax is based on the state that store belongs and it ranges from 5-7%(approx) of order amount.
Deposit:
The Postmates charge minimal amount which is less than 1% of the order value for depositing partner's money in their account.
Credit Card Tax:
By using the Postmates app, there will be no charge for a partner for a credit card. It will beneficial for partners as they can skip credit card tax.
Summing Up:
By joining Postmates, the partners can enjoy a lot of benefits as well as have to give a price for all the advantages. I suggest that it will help newcomers to build their brand and increase their business. But for already know a business can build their own app or website will be beneficial. If you are interested in building your own app like Postmates Clone or Customized Food Delivery Software then, reach our site.
Bye.