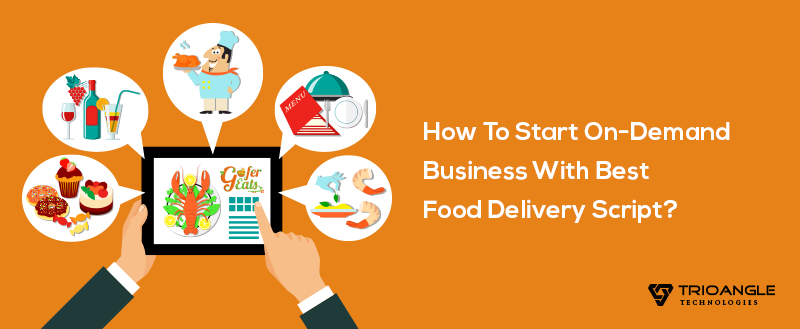 To become a prominent entrepreneur, what are things required to have? For that, it needs to have a college degree, or need a bunch of bank balance or need to have more experience in the business field? 
No! No!! No!!!, To turn to become a prominent entrepreneur, there is no secret, no need to have a college degree, no need to have lots of bank balance, and no need to have much experience. 
One perfect trump card is needed to select the eminent script. 
Most of the entrepreneurs are not select the best script for their business venture. To select a few things will make a huge change in your business to become a successful entrepreneur. And not matters how much they risk to start and grow their business. Which is only can be done by the most leading script. 
Wow! it's a great time to know about the best on-demand script to kick start your business.
How To Start On-Demand Business With Best Food Delivery Script?
In this contemporary world, the most trending food ordering & delivery business is UberEats, Swiggy, Zomato, Justeat, FoodPanda and AKA (also known as) GrubHub are playing an extraordinary role. 
Just indeed imagine that, if you print your business on the above like script what will be your progress?
Damn sure! you also can able to become the most successful person in the on-demand business field.
GoferEats is the superlative online food ordering & delivery script which makes many entrepreneur life turn to become lucrative. It's made up of high-end technologies for its users. 
GoferEats has multi-possible business verticals such as Grocery delivery business, Pharmacy delivery business, Alcohol delivery business, and so forth. 
If you have any ideas such as explained on the above also can be customized as per request. 
Most Simplistic Sign-Up/Sign-In

Elegant Dashboard For Admin

Seamless Advanced Search Option

Real-Time Tracking 

Smart Filter Option

Spellbound Toggle Button

Restaurant Online/Offline Status

Flawless Instant Notification Regarding The Orders

Can Accept Or Reject The Orders

Easy customization of menu orders

Latest Design And Functionalities

Secure Payment Through Stripe, Wallet, COD

Rating & Reviewing Option
All the above-mentioned features are boon for the entrepreneur to do the best business.
Then why waiting, start to build your dream castle with GoferEats – On-demand food delivery script.
To know more information to commerce your business, contact 6379630152 or ping on [email protected] and also you can Skype: Trioangle