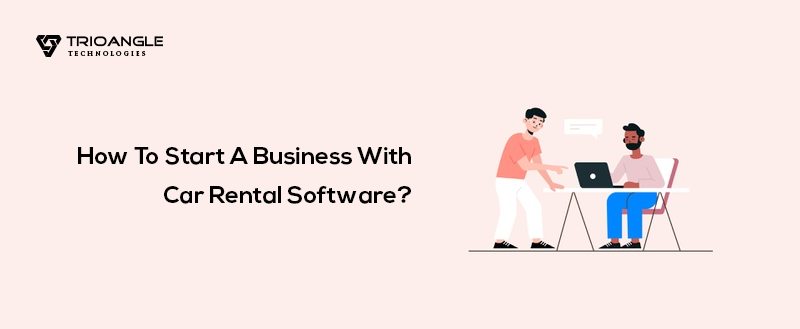 Transportation plays a crucial role in a common man's life. From transporting goods & services to on-demand service deliveries irrespective of the platform evolution, transportation never fades away. Knowing its importance people have set their trademark through purposeful services. Wanna be a part of the billion-dollar sector? Well, today's digital platform welcomes young minds, to sustain in the car rental industry, all you need a source and driving force.   So now let's see how to start a business with car rental software,
How To Start A Business With Car Rental Software?
Starting a business in an online platform is "dream come true" for business visionaries. To stand on the platform a strong source is required. In a wiser part, choose a cost-effective, time – saving and energy saving approach. In-car rental business, car rental software available in the market will afford reliability and productivity to the business.
Research:
Before stepping into, gather some data on the various car rental software. Like 
Features of the car rental software

Do those features meet industry needs?

The uniqueness of the product.

Who are the car rental software providers?

What are the benefits afforded by them?

Check with product platform compatibility and built technology

The car rental software's demo and pricing packages.
Features: 
To a car rental software, the core features like 
Elaborated listing of the rental car.

Seamless booking of the car rental.
Other features like user verification, multiple payment transactions, rating, and reviews maintain transparency and reliability in the software.   To make the process ease the features like multiple signups, advanced search filter option, the responsiveness of the script, iCal integration, multiple booking options, multiple languages and currencies, multiple admins to manage the business.   The car rental script must be much scalable that it can quickly adapt all your business ideas and improvements to enhance your business.   Options or space to promote your business with features like bulk emails sending options, inviting friends, social media integration to share listings, etc.
Demo:
Get a list of car rental script providers and check with the technology the product its build, does the proct fit to your requirements and platform you expect. Ask for a demo and ride with the script to test the live experience of it. Check with product responsiveness and apps available in the market.
Pricing Package:
Similar to the demo has an eye on pricing packages available. Note down the features that you expect in a pricing package. Various pricing packages will let you take a fine and affordable decision.  Also the release log of the product how frequent the product is updated? If a product is stagnant in the market, think once or twice. A frequently updated product will meet the market needs and pushes the business a step forward.
Benefits From Providers:
A product alone is not enough to start a business, the best technical support and service from the providers are much more important.  Software providers can support their clients with free server installation, free app submission, 24/7 support, 100 % source code, free technical support and maintains effective, transparency in their work.
Server Upload:
Finally, you have decided to purchase a car rental script by analyzing its features, demo, pricing, and packages. The technology companies afford you the car rental script as per the package is chosen, once the purchase is done. Initially, you need hosting(server), a domain name that should link to the server. With these primary requirements, the web script packages are uploaded and installed to your server from the cloud. If mobile apps .apk file will be afforded with free app submission in corresponding stores.   Install and run the package, if there's any flaws or uneasiness the team will support you until the support period ends.
Customization:
Here you can incorporate your ideas into the scalable script. But you will be charged for every customisation on an hourly or daily basis.
Best Car Rental Script:
Makent Cars – the best car rental script from Trioangle Technologies, satisfies every trait. It is a clone script of Airbnb that is perfectly customized to do car rental business. Through this Airbnb clone for car script, you can create a platform like Airbnb and let users book cars for the rental service. This script is developed in a user-friendly framework and helps you to start the business without any customization. Makent Cars provides a one-stop immediate solution to start a car rental business.    Also, the script is available on both iOS and Android platforms along with that of a separate dashboard for the admin to manage the process effectively. So Makent cars are good to go at an affordable cost.    Trioangle offers 4 different packages for business visionaries to choose any one as per the need and cherish their car rental business.   Meet The Benefits From The Trioangle
We will install the rental apps to your server after the purchase is done at free of cost. So that you can start business instantly
Our geeks help your apps to be submitted in respective stores as per the protocols jotted down.
We are keen to provide quality apps. In case of any bugs, we are there to fix it free of cost within a stipulated time.
You don't worry, our geeks are there to resubmit the apps on respective stores and comfort you with their services.
Recurringly, we update our software. You can acquire it on a free of cost within a support period.
Our dedicated professionals are available round the clock to answer your queries and comfort you with the best service.
Once you have purchased our script our tech minds of our firm, are presented to support you free of cost.
We fix your brand & afford you a strong voice, to call and engage your customers to your business for free.
As per your preferred package, we will afford you source code. Late you can remodel the software with that code.
Our flexible script incorporates all your business ideas. We will capture your requirements and bring them to reality.   To know more, contact [email protected]