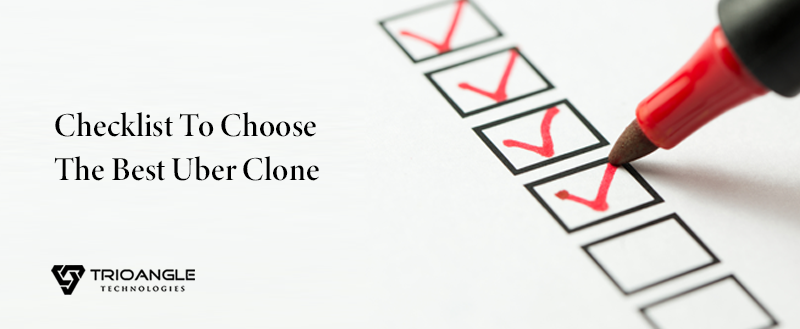 The app for your business plays a major role when it comes to on-demand business, Either you choose taxi dispatch software or any reputable Uber clone script. But before deciding the script make sure to check the required features to be included.
Checklist To Check Before Choosing The Best Uber Clone

App Compatibility – The script should be capable to operate in multiple platforms,  so that can gravitate multiple users like the Uber profile.
User Friendly – If the app isn't user friendly then the bounce rate of your app decreases and it is a sign that your not in the track. So majorly the app is to support user friendliness.

Social Media Integration –  Social Media has the key for the boom in marketing right now and then in the future. So the app should have the ability to integrate with it. Because even the signup can accessed with this signup process.

Responsive – When the user request an option, the website should provide optimal viewing experience. That's why one could interact with easy reading and navigation across the widest range of devices.

Low Battery Consumption – The usage of app shouldn't consume the battery. So that max num of people will use the app.
Localization – When you work in multiple countries then the script has to focus on the niche audience. So according to the country and the location, the app has to get opted.

SEO Friendly – When the user look for your service, then your service should be visible in the SERP. For that the app script should be SEO friendly.

Apart from all these the POC or MVB should get drafted in a well defined concept, which is perfect for analysis and monitor the business within a single dashboard.

If you are planning to start a business then the best Uber clone is avail from the Trioangle.
If required details contact [email protected]