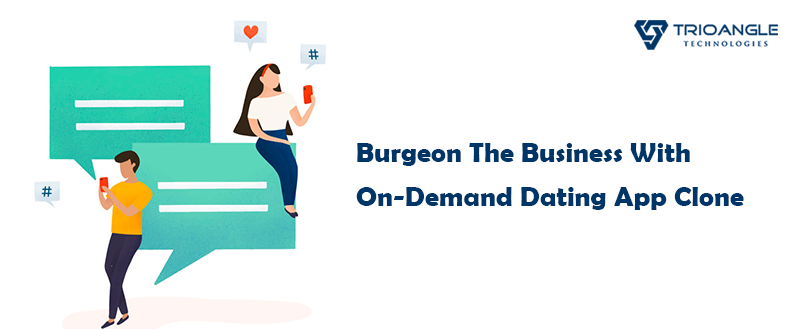 Trioangle is an exceptional technical support provider for the business visionaries to originate the best business like Tinder, Match, OkCupid, etc…
With the technical greek team, Trioangle provides awesome Igniter – On demand dating app clone script which is enough to take off your business venture.
Best lucrative dating script will uplift your business. Igniter dating app on iOS and Android is the fastest, beautiful and fun way to find dates and chat with them. This app can be connected with Facebook profiles to offer images and ages for other users to see.
If you exploit the Tinder clone on your business, definitely it will be an instant solution. This lavishing script can create a pack of web and mobile apps including the native application platform. And also can get a separate admin panel with a secured built up.
From Trioangle uphold to the customer's should enjoy all the required beneficiaries like
Free App Submission

Free Server Installation

Free Bug Support

Round the Clock Service

Free Technical Support

100 % Source Code

White Labelling
Why do we need it?
Dating hasn't make acquires on the growth of financially but to your business which is lucrative to build out the fame with the awesome dating script.
Igniter – dating app clone encompassed with the much-required features for the user-friendly usage with the business stipulation. With a suite of web & mobile apps and a separate dashboard for the admin is provided.
Need a reliable technical partner to commence dating venture then we Trioangle is avail for you. From our demo details check out the features that are encompassed in our Tinder clone script.
Who is it for?
This outstanding Igniter guides for the startup's entrepreneur who are looking to launch the perfect alike popular websites, you can go with rife of the mobile dating app business.
How It Will Be Useful For Your Business
Once after having an app for your business, you can target multiple audiences all of a  sudden, there are no backlogs for your business
The biggest one is Branding, you can do swank about your business to all people with the online presence.
Can engage a wide audience in an approachable manner and monitor your overall business in the digital form.
If you are about to start a business then make sure to check out an iOS and Android dating app clone script and decide your business destination.
What's next?
The app will be app update with new features. So, Launch your dream project on tinder clone with Igniter. Start to count your profitable income with Igniter – Tinder clone.