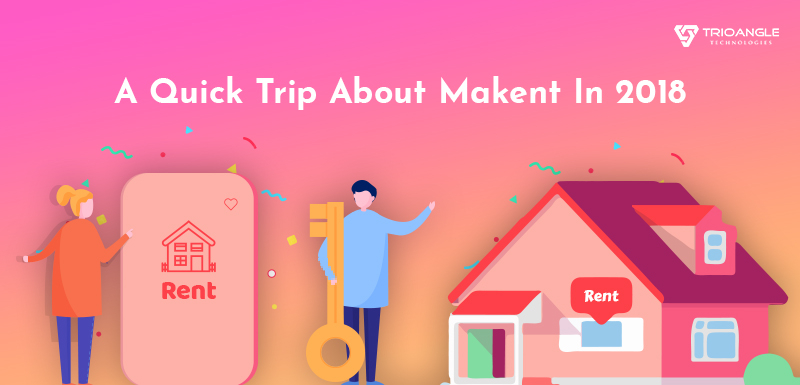 The practice of sharing is now heading in the marketplace. Many firms apply this concept are traversing world as a successful entrepreneur. One such is Airbnb, the best vacation rental business. Nascent entrepreneurs, who wish to commence business on online vacation rental system like Airbnb can receive best technical support from Trioangle Technologies.
Makent – the best vacation rental software from Trioangle, developed from the inspiration of Airbnb. It facilitates users and entrepreneurs with flawless features and functionalities. 2018, has been a glorious year for business visionaries who are coordinating with Makent. As continuous updates on the rental software have been released. Let me list out,
On February 7th, 2018: Makent 1.5.5 – Initial release of best airbnb clone in this glorious year that includes varied discount options for guest to book the property.
On March 9, 2018: Continuous update on Makent, rejoice, young entrepreneurs, who wish to commence a business like Airbnb. Here are some features listed in Makent 1.5.6,
Stripe Payment Method

Shared Room and Booking

Improved Payout Option

Improved Cancellation and Refund Policy
On April 4, 2018: To make the business still richer, Trioangle releases "Host Experience".
The host can share their passion and earn more money by bringing a guest along. Hosts who are passionate towards art, music cooking and who loves sharing their community with guest by leading experience. The best host experience can be shared social media and save as wishlist by the guest.  Tap on https://trioangle.com/blog/why-airbnb-clone-from-trioangle/ for more details.
On May 10, 2018: A revamped version of property rental software numbered as Makent 1.5.7, shines with spectacular features that warm users and admin. Let me pen down those,
Improved Travel Credit Feature

Security Deposit Claim / Dispute

Dispute Management In Admin Panel

Improved Currency & Language Options
On July 4,2018: The stable upgraded version of Makent 1.5.8 with fresh features like
Laravel upgrade from 5.1 to 5.5 for better performance of the software

Multiple payout preferences, help in smooth booking

Business on rental are extended, users can pick preferred languages among others easily in their profile.
On July 27, 2018: Trioangle paves a way to enhance your rental business with flawless car rental software. Makent Cars – A perfect script to commence business on car rentals with fine features and functionalities, that has been inspired from Airbnb's well-constructed business model. A responsive website act as an interface between riders and drivers and with an interactive panel, users and admin can monitor the moves.
On Oct 4, 2018: To make it easier an immediate launch of Makent Cars in the android app has been and provide accurate details of the ride and other features same as web apps affords.
On 25th October 2018: At the beginning of the third quarter of this year, Trioangle adds spice to the Android app of Makent stable 1.6 with supreme features like  
Length Of Stay Discount

Last minute discount

Early bird discount

Stripe payout

Minimum and maximum stay option.
These most like multiple options helps users to book and list easily.
On December 4: Makent Boats – A readymade script for boat rentals has been launched at the end of the year. The software is crafted exclusively for the entrepreneurs, who wish to start a boat rental business. This boat rental software incorporates features of Airbnb with responsive websites and user-friendly panels also provides an instant technical solution and hit success.