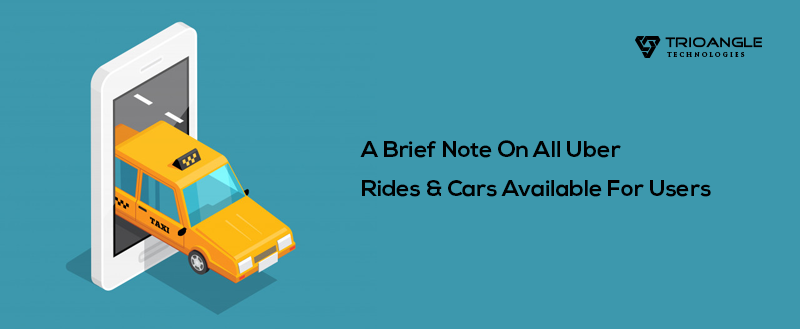 Uber is continuously extending its market geographically and expanding its business in different niche. Uber has near 4 million drivers & 75 million riders around the world & working as a top taxi booking giant.
Most people love Uber because of its convenience and acts as an alternative to the traditional taxi booking app. Uber provides different types of rides for its users. Many aren't aware of these services which will help them a lot. Here is a complete list of services available for riders.
Different Types Of Rides In Uber:
Basic Rides:
UberX:
UberX is a private car service and it is the cheapest service available in Uber. UberX can carry up to 4 individuals and your car for the ride will be a basic model car like Hyundai Sonata, Nissan Maxima and so on.
Uber XL:
UberXL is a little bit costlier than UberX and capable of carrying up to 6 passengers per ride. Minivans & sedans come under this category.
Uber Pool:
The Uber pool option helps you to share rides with other users who are heading in the same direction. It allows you to share your cab with 3 people and much cheaper than UberX. Uber Pool provides your door to door service.
Uber Express Pool:
In an express pool, the rider has to walk to pick a point as well as the destination. It is the most cost-efficient option available in the Uber. Your dropoff point will be shown while you get on the trip with other Uber customers.
Luxury Rides:
Uber Black:
Uber Black is a premium service provided by Uber with a luxury car that can carry up to 4 members. Uber offers pro drivers with a commercial license in Uber black with cars like Range Rover, Porsche, Bentley and so on.
Uber Select:
Uber Select is similar to Uber black but doesn't offer you with premium cars & drivers. But you can get car models like BMW, Mercedes Benz with leather seats and Pro drivers. Uber Select will be good for 4 members.
Uber SUV/ Uber Black Suv:
Uber Black SUV gives access to premium SUV with pro drivers for the users. Uber SUV allows up to 6 members with cars like Lincoln Navigator, Cadillac Escalade and Mercedes-Benz GL-Class.
Special Rides:
Uber Wav:
Uber Wav is a wheelchair friendly cab and the service is special for disabled riders. The drivers are certified well-skilled drivers who take care of the safety of the riders.
Uber Assist:
Uber riders who need support to get in & out of the car can make use of Uber Assist. These features will be helpful for elderly & disable people and the driver brings tools like a walker to help the riders.
Uber Car Seat:
Uber car Seat is nothing but a cab that has a child seat for the kids. This feature is useful for a mother with their babies.
Uber Espanyol:
Using Uber Espanyol, the rider can ask for Spanish speaking drivers for their service. It will helpful for Spanish users.
Uber Pet:
Now, the users can ride in Uber with their pet and they have to pay an additional amount from rides with the pet. The drivers carry tools like a mat to support your pet in the cab.
Business Idea Behind The Service:
The success of the Uber has proved that the taxi business is the revenue-based & most valuable out there in the market. Many companies want to follow the success of Uber and reach their business goals. If you want to start a business, then these services will give an idea about what to offer to your customers. You can also check out Uber Clone Script with apps which is a top tool to help you launch your business. 
Thanks.